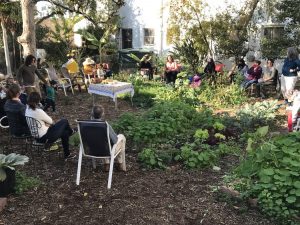 The Urban Soil/Tierra Urbana Limited Equity Housing Co-op (LEHC)
The Urban Soil/Tierra Urbana (USTU) housing co-op is named after the idea that building soil is one of the most important tasks in manifesting a sustainable lifestyle, and that soil can be built in all sorts of environments including cities.
The housing co-op is a nonprofit 501.c.3 tax exempt organization, founded in 2010 by members of the Los Angeles Eco-Village (LAEV) Intentional Community with the help of CRSP.  USTU members share legal and social ownership of two of the buildings in the LAEV two block neighborhood.  A decent basic definition of LEHCs can be found here.
There are approximately 40 members of the USTU co-op.  Some are owner-members and some are renter-members.  Co-op members meet twice monthly to make a variety of decisions.
The Co-op took ownership of its two apartment buildings in July 2012.  The co-op has many of the features of Cohousing. With the Beverly-Vermont Community Land Trust and CRSP, USTU is the third organization associated with developing LAEV as a public demonstration of more sustainable urban living patterns.
The Mission of USTU
To provide permanently affordable housing to very low to moderate income households that sustains a diverse community whose members join together to publicly demonstrate higher quality living patterns while minimizing negative environmental and social impacts.
Core Values of USTU include:
Celebrate & include joy in all our endeavors
Take responsibility for each other & the planet through local environmental & social action.
Learn from nature and live ecologically
Build a dynamic community through diversity & cooperation, giving & forgiving
Inspire compassionate, nurturing, & respectful relationships
Create balanced opportunities for individual participation & collective stewardship
Engage our neighbors and broader communities in mutual dialogue to learn, teach and act.
Committees
The process of creating this organization has been ongoing for over 20 years. A Limited Equity Housing Cooperative was envisioned by the CRSP founders of LAEV in the early 1980s. One timeline had us done by mid 2009. However, we persevere, and the following committees have made it happen, one puzzle piece at a time. Here's a summary about our current working committees, some of which are standing and some of which are ad hoc:
Membership Committee – Creates the membership process for the Co-op and the LAEV Intentional Community.
Bienvenidos Committee – Coordinates the membership process which helps interested persons through our membership process.
Management Committee – Oversees the day-to-day operations and finances of the Co-op buildings, sets priorities for basic maintenance and repairs, makes recommendations to members on issues of major importance. Designs and maintains the financial aspects of the co-op, including monthly, annual, and long-term budgeting and reporting to the full Co-op.
Conflict Resolution Team – Tasked with assisting in the resolution of any interpersonal or personal-group conflict that arises.  Members of the team are certified mediators and provide services to the broader neighborhood.
Facilitation Committee – There are six teams of two persons each.  The teams rotate each week to facilitate the Co-op's weekly community meetings.
Public Education Team – Tasked with planning, coordinating and programming public education events on USTU properties and public outreach activities.
Gardening Group -Plans the seasonal plantings, compost locations, major garden changes, garden work party schedules.
Bylaws  Our draft by-laws can be found here.
MORE INFO ON URBAN SOIL AND HOW TO BECOME A MEMBER

For more detailed information, on L.A. Eco-Village's Urban Soil/Tierra Urbana (USTU) limited equity housing cooperative, its policies and practices, please visit our wiki here:  http://urbansoil.net/wiki.cgi
And for information on how to become a member of our Co-op, review the materials here:
http://urbansoil.net/wiki.cgi/Membership_Information
A good deal more information on the Los Angeles Eco-Village can be found on the internet with the search <l.a. ecovillage>.